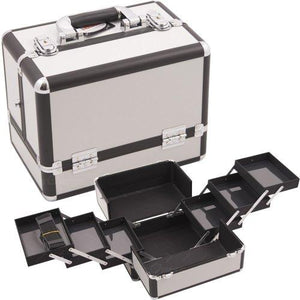 High quality aluminum finish and color panels with Black aluminum trimming.

3 extendable trays on both sides and holders beneath the lid.

Easy close latch with key lock

Overall case dimensions: 12 L x 8 W x 9.5 H

Material: Aluminum

Color : White
ber chic, funky fresh, or conservative doesn't matter to this makeup case, it loves you all. Classically designed triple tiered extendable trays allow you to sort and carry cosmetic, jewelry, or lots of other small goodies while the center compartment holds your larger items comfortably. Brush holders beneath the lid for easy access and organize. Dual key locking latches to keep your investment safe and secure. Heavy duty handle for added comfort and grip. And thanks to the detachable shoulder strap, you can have hands free carrying of all your cosmetics or styling supplies while traveling!
Overall case dimensions: 12 L x 8 W x 9.5 H
Large center compartment dimension: 11.25 L x 7.25 W x 2.75 H
Extendable trays dimension: 6.75 L x 5.25 W x 1.25 H