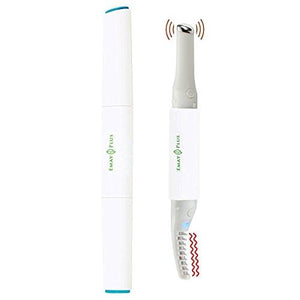 2-IN-1 DUAL USE BEAUTY WAND WITH INNOVATIVE TECHNOLOGY: Powor heated lash curler and sonic eye massager wand consists of two different function tips. The eye micro massaging tip is a high frequency beauty instrument, beneficial to revitalize the delicate skin under the eyes, soothe and refresh the skin for a brighter appearance with 106F heat massage. The heated eyelash curling tip is perfectly designed to help you create natural-looking, long-lasting curl and take care of eyelashes in seconds.

KEEP YOU STAY AGELESS: The heated sonic eye massager wand helps you defend aging and get rid of eyelid drooping eye and face, puffy eyes, crow's feet (eye wrinkles), eye bags, dark circles and face wrinkles if you have any or prevent those occurring. It's 12,000 vibration per minute, rebuilds the eye and face skin collagen, tightens up the pores, promotes blood circulation of your skin and allows eye cream be absorbed effectively and gives you the rejuvenated, healthy, radiant and youthful look.

SAFE AND EASY TO USE: The circular, gently heated lash curler softly lifts, curls and styles lashes smoothly from base to tip without pinching or crimping. Temperature control mechanism and protective contact guard ensures its safe use with 3 min auto shut-off. A convenient heat indicator changes color to signal that eyelash curler is fully heated and ready for you to use whether you're preparing for a day at work or a special night out. You can achieve beautiful results with or without mascara.

SLEEK, SLIM AND PORTABLE: This sleek, versatile 2-in-1 electric eyelashes curler and sonic eye massager wand is designed for maximum portability, both eyelash curling and eye massaging caps in different shapes can be exchangeable to use. Whether you're right or left handed, this dual tip makeup beauty wand fits naturally in your hand for comfortable control. Its slim design slips neatly into your purse, bag, luggage or makeup case for quick, easy touch-ups at the office, gym or while travelling.

100% SATISFACTION CUSTOMER GUARANTEE: At Powor, YOU, the customer, are our top priority. We're confident you'll love this 2-in-1 contoured heated eyelash curler and sonic eye massager wand. However, if you're not completely satisfied, just contact us, we'll give you a 100% refund or a replacement within 60 day of purchase and you are covered by our worry-free 18 month warranty and friendly customer service. No hassles, no question asked. Click 'Add to Cart' now and buy with confidence on Amazon.

Color : White
Powor 2-in-1 Heated Eyelash Curler and Sonic Eye Massager Wand
Revel in natural long lasting curled lashes in just seconds and rebuild the eye and face skin collagen, tighten up the pores, promote blood circulation of your skin and improve absorption of eye cream. This patented eyelash curler stunningly lifts, curls and styles your lashes to lustrous perfection. At Powor, this 2-in-1 heated lash curler and eye massager wand delivers the highest level of performance and innovation with a flawless design.
Features:
Gentle heats the lashes and easily creates the natural-looking curl you want in no time, and look your best all day at work, or out on the town at night.
This electric eyelash curler safely lifts and lengthens even the straightest lashes in seconds, without pinching or squeezing.
A convenient lash curler indicator changes from red to clear when the curler is heated and ready to use.
East to clean, simply hold the lash curler head under warm, running water to rinse away mascara.
Relieve dark circles and puffiness.
Enhance absorption of eye essence.
Relieve eye fatigue.
Stimulates crow's feet and eyelid laxity which can achieve a firming effect.
Its sleek, compact size makes it easy to carry, even in the purse.
Specifications:
- The eye massaging tip is made from chrome
- Material: ABS, PC RoHS compliant
- Size: 6.6 (L) x 0.77 (D) inch
- Weight: 1 oz
- Frequency: 12,000 micro vibration per minute
- Temperature: 106F
- Power: 1.2W
- Battery Type: 1*AAA battery (not included)
Note:
Recommend to use alkaline battery to ensure eyelash curler is heated up quickly. A new AAA battery provides up to 35 minutes continuous use.
What You Get:
1 x 2-in-1 Heated Eyelash Curler and Eye Massager Wand
1 x Cleaning Brush
1 x User Manual