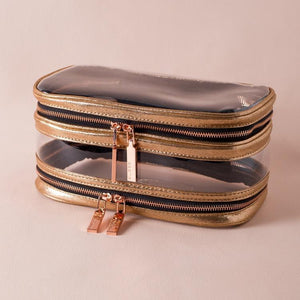 Adorne Clarity Make Up Case Copper Clear
This product is due to arrive between 25th and 30th of January 2019.
Use this Adorne Make Up Case every day and night as the perfect makeup case or to pack your toiletries in style on your next trip.
This versatile and striking case is made from manmade fabrics and rose gold plated metal. Its smart finish is created for those like yourself who appreciate quality and beauty.
Or just use it because it makes you feel good!
Dimensions:
L:24cm
H:10cm
W:15cm.