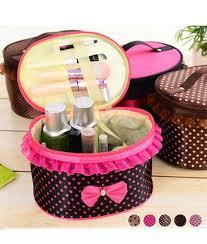 New Style Red Lace Polyester Cosmetic Bag with Bow Tie Dot Women Multifunction Travel Makeup Case Pouch Toiletry Organizer.
Feature:
Compact cosmetic bag will organize your beauty essentials neatly in place.
Zipper opening for easy access to your makeup items.
Slots and wide elastic strap on the inner side of the lid help to keep brushes handy.
Material: Polyester.
Color: rose red with small black dots/rose red with samll black dots/black with big rose red dots/pink with big black dots/coffee colored heart.
Length: app 20cm/7.9".
Width: app 15cm/5.9".
Height: app 13cm/5.1".
Colour: Random.
High Quality Product.