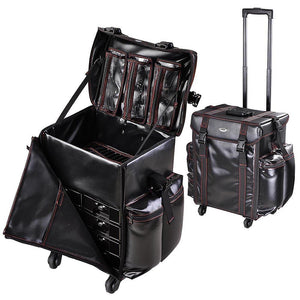 17"L x 14"W x 22 1/2"H AW Extra Large PU Makeup Case comes with 2pcs Drawers, 3pcs Tool Bag, a 13pcs-Brush Holder, and designed with four lockable casters, easily to move the case to everywhere. Suitable for dresser,styling designer, star and more.
Features:
Brand: AW
Heavy duty aluminum trolley design
Quieter universal wheels - ensures smooth-rolling in any direction
4 detachable wheels - can detach the wheels for stationary use
Three extendable tool bags and a large hollow space in top case
Removable/adjustable padded shoulder strap for added convenience
Retractable telescoping height 42" when fully extended
Specifications:
Case Material: PU
Overall case dimension: 17"L x 14"W x 22 1/2"H
Detachable 13pcs. brush holder: 13 3/4"L x 9 1/2"W
Each removable hard plastic tray: 10"L x 6"w x 2 1/4"H
Trolley telescoping height: 22" - 42"
Package Includes:
1x 2-layer PU Makeup Case
2x 4-layer Drawers
3x Tool Bags
1x Detachable 13 Pcs Brush Holder
1x Shoulder Strap
4x Casters