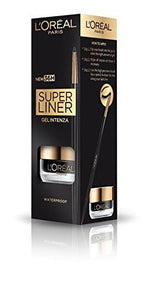 Brand: L'Oreal Paris
Color: Profound Black
Features:
Lasts for up to 36 hours
Is smudge proof
Resists tears and sweat
Is crease-proof and keeps a fresh, just applied look throughout wear
Does not smear, fade, rub off or stain the lids
Legal Disclaimer: We sale as a retail seller and we take original product through respective distributor.
Publisher: L'Oreal India
Details: Every woman loves a pair of fully defined eyes and whether you want your eyes to appear bigger, longer or just make them pop with colour, an eye liner can transform your entire look in minutes. With eyeliner being the most popular make–up trend this season, the gel format is most make-up artists' choice as they don't easily smear and deliver rich colour. From the ever popular cat eye to the more daring smudged look, get an ultra-defined look that is long lasting with the 5 glamorous shades of L'Oréal Paris Superliner 36 H Gel Intenza. Its super-soft formula glides on easily and evenly, leaving an intense colour finish for extreme eye-drama. Superliner Gel Intenza is incredibly versatile to use. It provides all the ease of a pencil eye liner with the durability of liquid. It is easy to apply, and unlike liquid, it can blend beautifully into the eye shadow to create high eye definition. So whether you want to pull off a 1960s defined flick, or the classically chic smokey effect, Superliner Gel Intenza will achieve it with ease. What makes this liner even more amazing is that while it is highly blendable, it also sets to a smudge-proof, water-resistant finish for up to 36 hours. It comes with its own brush and has a handy lid to keep your makeup case clean after use. The brush is the perfect shape for creating thick or fine flicks and enables you to get the product right in the lash line for a fuller look. So, create your own signature look this season and dare to be graphic with 5 intense designer shades of L'Oréal Paris Superliner Gel Intenza.