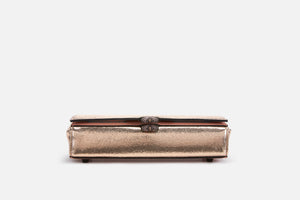 Compact for travel yet surprisingly spacious for storage, you'll be amazed with how many brushes and makeup items of various sizes fit inside this sturdy case.
Dimensions: 9.25 L x 3.25 D x 2.125" H
Why You Need It
Designed to solve:

The excessive, wasteful fabric and inconvenience of typical brush rolls with bristle crushing flaps and unsanitary individual slots

Why it's different:

The Fumble-Free™ wide, magnetic opening allows for quick access and storage of luxury makeup brushes of various shapes and sizes
You save time and counter space with this compact design
Brushes stack back and forth for snug, protective storage
Prevents water damage with bottom feet that elevate the case above counter tops
What It Fits
Examples of compatible products:

2 dozen or more pro length brushes, even those with wide bristles such as Sephora Collection Pro®, Morphe®, YSL®, Marc Jacobs Beauty

 

®

 

and many more
Brow Pencils such as Anastasia Brow Wiz®
Skinny palettes such as Lorac® or Marc Jacobs®
Large mascaras such as Dior Beauty® or Benefit®
Most compacts and powders such as Stellar Beauty® and Antonym Cosmetics®
Disclaimer: The above brands are mentioned for compatibly purposes only. Henry Charles is not affiliated directly or indirectly with these brands in any way, as these brands may or may not own their registered trademarks, which are separate from and not to be confused with the Henry Charles brand.
Materials & Care
RO-PRO Collection- ROSIE: Durable textured rose gold metallic fabric trimmed with dusty peach saffiano textured vegan leather. Black lining.
Coated, water resistant lining
All our materials are vegan & non-toxic
Clean it same way you clean your face: water, cleanser, and a gentle cloth
Spot clean only. Do not machine wash