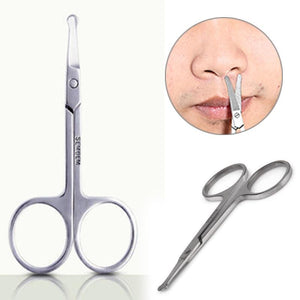 Nose Hair Removal – Ear Hair Cutter
Everyone is looking for the best tool for removing pesky, unwanted hair. Introducing the Nose Hair Removal – Ear Hair Cutter, an excellent quality grooming, and beauty tool. These Makeup Scissors are made with High-quality stainless steen in a distinctive design and don't pull hair,  sharp enough to cut coarse hair and lasts a long time. The art of shaving! 
These Nose Hair Removal – Ear Hair Cutter can be used for unwanted nose hair, mustache, eyebrow, eyelashes, and the outside of ears with rounded edges for safety. It can be used by both men and women. An excellent value!
Features:
Precise, durable and sturdy with full blade contact, made from surgical grade stainless steel that resists rust and tarnish.
Adjustable screw allows you to regulate tightness of blades. Easily maintained by wiping with a soft, dry cloth and storing in a closed position when not in use. 
Safety Snub Tipped Clippers To Trim Unruly Facial & Body Hairs including sideburns, goatees and neckline areas. It is a great feeling to have the right type of scissors handy when you need them!
Sharp blades with rounded ball tips offering safe precision. No More Stabbing Your Nose With Sharp Points; Problem Solved.
Rounded Safety Tips to Prevent Cutting Delicate Areas
A classic design that provides easy and comfortable use; An excellent pair of trimmers to travel with on your next trip; no Dopp bag, toiletry kit or makeup case is complete without these small and handy clippers.
How to use:
Hold with a strong hand. Use with finesse to trim nose hair and outer ear hair, or even any unwanted hair.
Product details:
Item Type: Scissor
Color: Silver
Materials: Surgical grade stainless steel
Size: 8.8cm x 4.3cm x 0.2cm
Package includes:
1 x Nose Hair Removal – Ear Hair Cutter