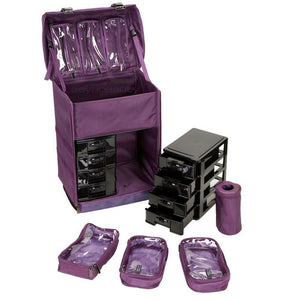 Get the attention you deserve with this eye-popping purple professional makeup case at your side. Crafted of high quality nylon fabric and boasting a lovely eggplant hue, this professional case is as practical as it is beautiful. The exterior is lightweight and easy to clean, while a durable wheel system and retractable trolley handle make it easy for you to get this case where you need to go. Heavy duty locks in the front and sides keep supplies inside safe and secure until you arrive at your destination.

Peek inside the top compartment of this professional makeup case to find a wealth of space for the many loose components that are a part of the set. Three triangular cases hold pencils and brushes, while two more roomy PVC bags can hold additional supplies. Tuck these cases inside or attach them to the exterior for fast retrieval.

The lower part of the makeup case also opens, revealing eight removable trays in four-drawer stacks, and a large pouch for holding bulkier items. Finish off your storage solutions with separate holders for Wet Ones and Kleenex and you are good to go.
Pencil/brush bag(s) measure: 9.5" L x 4.5" W x 2" H
Kleenex holder measures: 10" L x 6" W x 2" H
Wet Ones cylinder measures: 4" D x 7.5" H
Makeup bag(s) measure: 10" L x 6" W x 2.5" H
Empty Space under Lid: 16.5" L x 12.5" W x 6.5" H
Plastic tray dimensions (each): 9.25" L x 5.75" W x 2.25" H