12 Best Wooden Toys for Girls
We know that kids these days mostly look forward to rather technological toys, but sometimes we think its nice to give a slightly more old fashioned gift, just to keep the kids we know well rounded and interested in all kinds of things! Thats why weve been on the hunt for wooden toys for a few little girls we know who have birthdays coming up, and wooden toys were our favourite when we were growing up, so wed like to pass that on.
Like anything else, we put some time and thought into what we wanted to buy before we made the final purchase. We just like to make sure weve really considered everything, which is how we found ourselves with a whole list of awesome toys to consider and choose from. We figured wed might as well share that list so other people considering the same kind of gift can get a little help choosing too!
In addition to giving a gift thats a little more traditional to balance out all the screens in the lives of the kids you know, would you also like one that somehow promotes healthy living? Then maybe this adorable hand painted wooden fruits and vegetables set from CARLOBRO would work well for you!
Besides being very affordable indeed, this cute wooden set is also neat because its interactive and teaches a real-life action. Thats all thanks to the (blunt and child-safe) wooden knife that comes along with it! Each vegetable or piece of fruit in the set is halved with a little piece of Velcro in the centre so they can stick together, meaning your child can also use the knife to cut them apart!
View price on

Amazon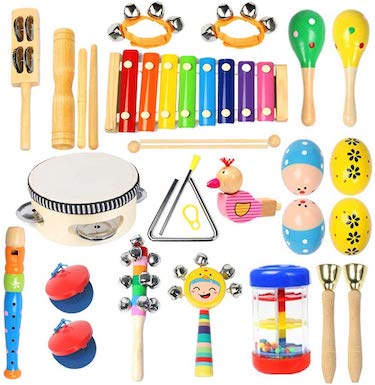 Do you really love this whole idea of gifting not just a wooden toy but one that encourages some kind of learning, even though fruits and vegetables werent really what you had in mind? Then perhaps youd rather share the gift of music!
This adorable set of wooden miniature instruments is more than impressive for the price. If you ask us, the best part is that they all actually make noise and work in the same way as their real, full sized versions, meaning youre actually introducing your kids to music in a way thats tangible and sets them ahead. We would probably have to resist playing with these ourselves!
View price on

Amazon
Did wereally pique your attention when we started talking about food based wooden play sets but the child you have in mind for gifting already has plenty off fake fruits and veggies? Maybe youre just looking for something even more interactive than the Velcro cutting action you saw earlier. Either way, we think youll get a kick out of this awesome wooden toast set from Tiny Land!
Besides being beautifully painted and totally kitschy (which are things we acknowledge thatwe would appreciate more than the kids receiving the piece), this set is also totally awesome in that its actually a little interactive. When you fit the wooden toast pieces inside the slots of the toaster, theyll actually pop up and down if you turn the handle on the side!
View price on

Amazon
Is the little girl youre planning on buying wooden toy set for already a total little diva with a budding passion for all things beauty based? Then wed be willing to bet that this awesomely detailed and fully equipped wooden beauty set from Dragon Drew would be a big hit!
This and painted set comes with ten pieces in total, ranging from miniature hair styling tools to pretend cosmetics and compacts. As if thats not adorable enough, the whole set also comes on a lovely little travel case thats very fashionable indeed. Shell be the envy of the playground!
View price on

Amazon
Is your little girl a mixture of tastes when it comes to the things she loves? Well, we can certainly understand that; one of the kids were buying for loves nothing more than the idea of ballerinas who also play other sports. Were sure you can imagine our excitement, then, when we came across this wooden train set that also happens to be painted pink like its carrying a princess!
We love the way this set provides something girly and cheerful but with an action based toy that kids will probably ask learning questions about too. Each of the pieces- the set comes with an engine and four cars, as well as two pieces of wooden track- features a magnetic end that will link it to the cars in front and behind it so they drag each other along (on the track or on the floor) just like a real train.
View price on

Amazon
Are you actuallyso taken with the idea of gifting a wooden instrument set to one of the little girls in your life that you cant help wondering if there isnt an even more thorough option out there? Well, not only is there an even bigger set, but its comparably priced too. TAIMASI Kids has it all together for you!
The biggest different between this set and the previous one we showed you is that this one has more percussion style instruments. Thats a great thing, however, because those are actually how kids first learn tone and rhythm before they move onto other things!
View price on

Amazon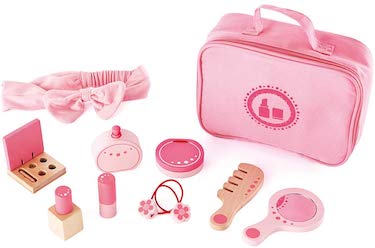 Are you still thinking about how much you liked the idea of gifting a lovely little wooden cosmetics play set but youre just not sure that the child you have in mind will actually useall of the pieces in the previous model you saw? Then we think you might do better with this slightly smaller set from Hape.
Like the other set, this one still comes with a range of pretend makeup and hair things, as well as an adorable little carrying case to put it all in. Its a little more compact, however, with fewer pieces for a child to potentially lose. It also comes with an actual pink hairband too, which is very cute and useful indeed.
View price on

Amazon
Do you knot the little diva youre thinking of well enough to know that she usually just wants to do whatever the adults around her are doing, since shes three years old going on 30, as the saying goes? In that case, we think you simplymust check out this funny little wooden coffee maker play set offered by Tiny Land.
In addition to being just plain amusing for kids and adults a like (well admit the idea of watching a toddler carefully mix a latte is pretty cute), we love how interactive this set is. The top of the coffee maker actually opens and you can insert differently flavoured discs in the top just like coffee pods in your Keurig at home!
View price on

Amazon
Now, whenwe were little kids, all the dress up dolls we were given were simply made of paper. The idea of a wooden doll with matching wooden piece clothing that actually sticks to her with magnets is so neat that we practically want to get one for ourselves! Thats precisely how this set from Melissa & Dough works.
Of course, this isnt justany old doll; this set lets your little ones dress up Minnie Mouse! Its the perfect set for budding fashionistas and big Disney lovers all at once. Its also a little bit more affordable than some of the other options weve shown you so far.
View price on

Amazon
Did wereally catch your attention when we started talking about awesome wooden train sets but youre pretty certain that the little girl youre buying for would much rather have more pieces and track to run her train on than worry about what colour it is and whether theres a princess on board? Then wed suggest looking at this set from Kipipol instead!
This particular train set holds its cards together with magnets just like the other one, but it comes with more thanjust its three train cards too. Youll also get a police car, fire truck, and ambulance that work along the track, plus a lot more of the track itself! This set is much more thorough and customizable, but that also comes with a reasonable increase in price.
View price on

Amazon
By this point on our list, are you feelingtotally set on the idea of buying your little girl a wooden toy, but shes actually a lot younger than the age range most of the toys youve seen so far are aimed at? Then perhaps youd get along better with something like these block puzzles made specifically for toddlers by Slotic!
We love that these puzzles are simple, adorable, and cartoonish thanks to their bright paint, but also that theyre a learning tool. Even just by putting the four or five pieces each one of these puzzles is made up of into place, your child is practicing their hand-eye coordination. As an added bonus, this particular bundle offers youall of the puzzles pictured rather than making you choose just one.
View price on

Amazon
After all that scrolling, are you actually still feeling enamoured with the fruits and veggies play set that you saw at the top but youre also kind of wondering whether there isnt a slightly bigger or more thorough set with even more pieces? Well, were pleased to report that CARLOBRO still has you covered!
This set is just as interactive and action based as the last one, with a wooden knife and vegetables and fruit that cut apart into pieces. This time, however, youre also getting a veggie crate, a cutting board, and additional tools like a potato peeler! Youll also receive more types of fruit and vegetable than the other set, which might help you introduce your kids to delicious foods theyve never tried before in a way thats fun rather than skeptical.
View price on

Amazon
Conclusion
Do you know another person who has been interested in buying some wooden kids toys for girls lately but they also feel like they need to see a few more ideas? Share this post with them so they have even more great things to choose from!
The post 12 Best Wooden Toys for Girls appeared first on DIYs.com.