Gifts for Girlfriends Under $25!
Ahhhh I have an awesome post for you today!!! A last minute gift guide for girlfriends (or moms, sisters, teachers, you name it) all from Amazon and all under $25!!!! Killer gifts, stocking stuffers, white elephants and down right fun gifts to give that are on Amazon Prime and easy to buy. Here are my absolute top inexpensive gifts for gals from Amazonhope you enjoy!!!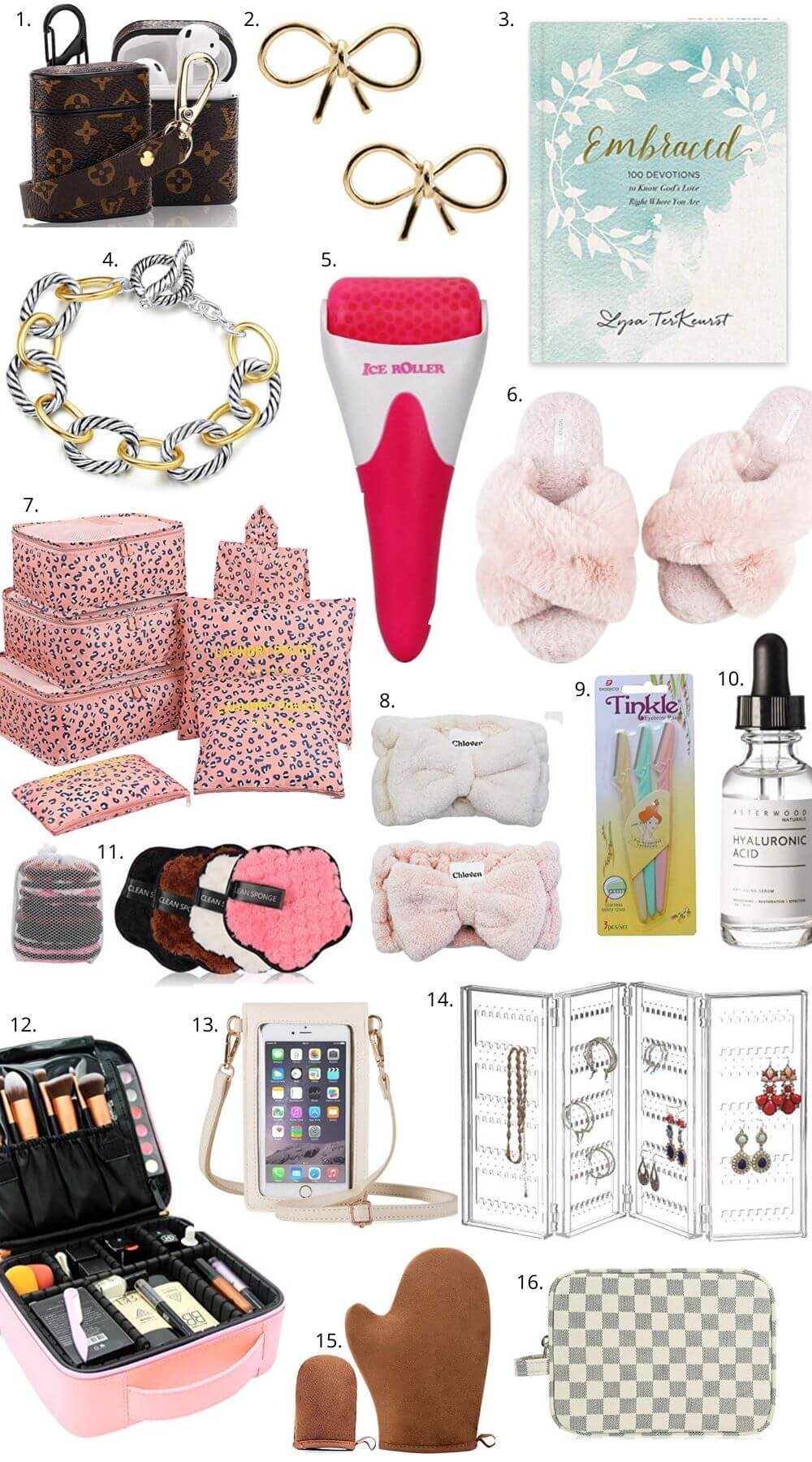 One | Designer Inspired Pod Case
How stinking cute is this designer inspired pod case. I think that a pod case is absolutely necessary because if mine arent physically attached to my bag, I lose them. This one certainly ups the style game.
Two | Bow Stud Earrings
How darling are these?? Very Kate Spade inspired and a functional gift for a girl to wear everyday.
Three | Embraced Devotional
Ive heard awesome things about this devotional from Lysa TerKeurst! It contains over 100 devotions to meet women at all phases of life where they are with Gods love.
Four | Designer Inspired Chain Link Necklace
If you want the look of David Yurman without the price tag, this chain link bracelet is the perfect gift for yourself or someone else!
Five | Ice Roller
This thing is always a total hit when given as a gift!!! You simply freeze it overnight and use it in the morning to roll all over your face and neck to decrease puffiness, redness, pore size and increase circulation.
Six | Cozy Slippers
I love these house shoes on Amazon and think that the crossover makes them cute and chic! A great gift for the cozy girl!
Seven | Travel Packing Cubes
Arent these darling leopard packing cubes the cutest thing?? If you have a friend who likes to travel these make the absolute cutest gifts for under $20!
Eight | Spa Towel Wraps for Makeup Removing
These little headbands are a darling addition to any beauty routine! They keep your hair from getting wet and any product from transferring into your hair!
Nine | Tinkle Razor Set
These facial razors are a hidden gem on Amazon. They are to be used all over your face and remove the peach fuzz and stray hairs. This allows for a baby soft face and an out-of-this-world makeup application!!
Ten | Hyaluronic Acid Serum
I swear by this stuff!!!! Its the hyaluronic acid that Ive been using for over a year now and I absolutely love it! Use it all over your face to retain moisture or even drop it into your body moisturizer to give it a hydrating boost!
Eleven | Makeup Remover Pads
Super intrigued by these! So much so that I bought a ton of them as gifts for all of the ladies in my life. You simply slip them over your fingers and use it in place of gross (and chemical ridden) makeup wipes to take off your makeup. Not only are they functional, but they also come with a little washing bag that you throw in your washing machine to launder them!
Twelve | Travel Makeup Bag
Another thing that you know I SWEAR by! Ive had my makeup case for a year now and couldnt love it more! Between my house, photoshoots, travel and the office, I am lugging my makeup around daily and this thing has REALLY held up. It organizes everything perfectly and really protects your makeup too!
Thirteen | iPhone Bag
This is probably one of the best valued iPhone crossbodies that Ive seen! It comes in a ton of colors and fits your phone and necessary cards into it with an easy to wear extendable cross body strap.
Fourteen | Acrylic Earring Holder
Another item that I have and love, this acrylic earring holder is not only beautiful to display but its super functional! It holds a ton of earrings and makes them accessible and organized.
Fifteen | Tanning Mitt Set
Yet another item that I own and love, this tanning mitt set is AWESOME! I love that it comes with the body mitt and a separate face kit so that you dont have to mix the two. They spread the mousse perfectly and are machine washable as well.
Sixteen | Designer Inspired Travel Makeup Case
I also own and love this one and think that its SUCH a great gift! Its awesome quality and definitely designer inspired. Great for teens (or anyone really) and easy to fill with gift cards!
See more gift guides HERE!
The post Gifts for Girlfriends Under $25! appeared first on Style Your Senses.